F.R.I.E.N.D.S. is simply the best show of all time. You can watch just one episode, from whatever season, and have fun. You can watch everything in the right order to have a big picture of the story and have even more fun! The first time F.R.I.E.N.D.S. war aired was in 1994. Twenty-five years ago! But since it is on Netflix, it reached a whole new generation of fans. Friends is evergreen content, y'all! Since it is obviously my favorite series, and I am about to finish the Master Studies in Content Strategy, I realized that this show and this job have a lot in common. Now you will understand why a content strategist needs to be a bit of each F.R.I.E.N.D.S.' characters.
Chandler
Content strategy as a discipline has not been around for a very long time. I mean, people are doing websites since 1991, but in comparison to other professions, like doctors or lawyers, it is relatively new. What makes the job of explaining it to your grandma kind of hard. So like Chandler, not everybody knows what a content strategist does. (Hopefully, it will change after you read this article).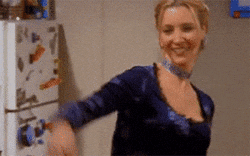 Pheobe
Pheobe has an open mind, and it is all about bringing solutions. Being the surrogate for her brother's children? Not a problem! Marring a gay Canadian friend so that he can get a U.S. visa? Done! She always is open to listen to someone's problem and bring solutions. No matter how big or small. Like a content strategist. It doesn't matter the scope of the project. No matter how big or small is the company and how many pages their website has, a content strategy will bring a solution to your problem.
Ross
Ross is known for being a know-it-all. A guy from science. He likes facts and numbers to prove his theories. A content strategist is also this way. Google Analytics, Google Search Console, Facebook Insights, Screaming Frog, and so many other tools that are part of a content strategist's toolkit. They back up a content strategist's recommendations.
Monica
Monica is an organization freak. Some might say she has a bit of an OCD. She even organizes her towels in 11 different categories,  including everyday use, fancy, guest, and fancy guest. She labels everything,  from dishes to photographs. That is the job of a content strategist: Manage and organize content into a planned delivery method.
Joey
Joey is an actor. He has to get into the head of his characters to understand their motivations for their actions. That is also what a content strategist does. After doing some research on the target group, and creating personas, a content strategist needs to understand their motivation and their needs. Then create scenarios to deliver the best content.
Rachel
Rachel started the series as a spoiled daddy's girl. After working as a waitress, she makes her way up in the fashion industry. She worked for brands like Bloomingdale's, Ralph Lauren, and even got a job offer from Louis Vuitton. She knows everything about style, so as a content strategist. It is just a different kind of style. As one of the deliverables, a content strategist creates content style guides. A documented set of guidelines that break down a brand's personality and how it is manifested through content.